Making jewelry for 18 inch dolls is a great way to practice jewelry making – and add pizzazz to your doll's outfits!
Today's blog is part of an ongoing series about making fun accessories for 18 inch dolls: doll bed/storage, clothes rack, jewelry, headbands, and shoes. Here are the postings so far:
18 Inch Doll Bed and Storage – Part 1
18 Inch Doll Bed and Storage – Part 2
18 Inch Doll Jewelry – Part 1 Ear Piercing
Jewelry making for 18″ dolls involves tools, techniques, and supplies similar to those used for adult-sized jewelry – but geared to doll-sized jewelry and use by children. As a somewhat beginner jewelry maker, I will share with you what I learned about tools, findings, embellishments, instructional resources, and bead storage.
NOTE: When selecting jewelry findings, embellishments and tools, remember two things. Keep the scale suitably small for 18″ dolls. I found 6 mm and under to work well most of the time – with occasional 8 mm+ charms, beads, or pendants. Pliers with small tips worked best with small jewelry pieces. Also, the jewelry needs to be sturdy and safe for play by grade school and adolescent children. Many of the components could pose a choking hazard for children under three; swallowing multiple magnetic clasps could be life threatening.
Jewelry Making Tools:  
Jewelry pliers

– it works well, at a minimum, to have one pair each of round nose, chain nose, and side cutter pliers; an additional chain nose or bent nose pliers is helpful
If you are just starting out with jewelry making, this Cousin Jewelry Tool Pack with Case is a handy way to purchase the basic supplies.
Bead mats keep beads from rolling around. This Bead Buddy Design Save 'N Go! Junior provides a bead mat and design template with marked inches for easy layout of doll size bracelets and necklaces.
The photo shows the work surface in use with the lid removed. Since the lid has its own bead mat and is removeable, it can function as another work surface. Once you close the lid, the jewelry project, flat tools, and loose beads stay in place.
Another system I came up with was trimming and layering two pieces of bead mat in a Stampendous Thin Stuftainer 8 1/2 x 11 x 7/16 in. It provides a handy work surface and storage – but will not hold the jewelry pieces well if not laid flat.
Jewelry Supplies and Findings
Embellishments
Instructional Resources
An online search for jewelry making information – even specifically for 18″ doll jewelry – will provide instructional videos and lots of design ideas on Pinterest and Etsy. Most of the jewelry sets of earrings, bracelet, and necklaces I made were designed to coordinate with the colors in the fabrics of the doll outfits I have made (a few) or plan to make (lots!).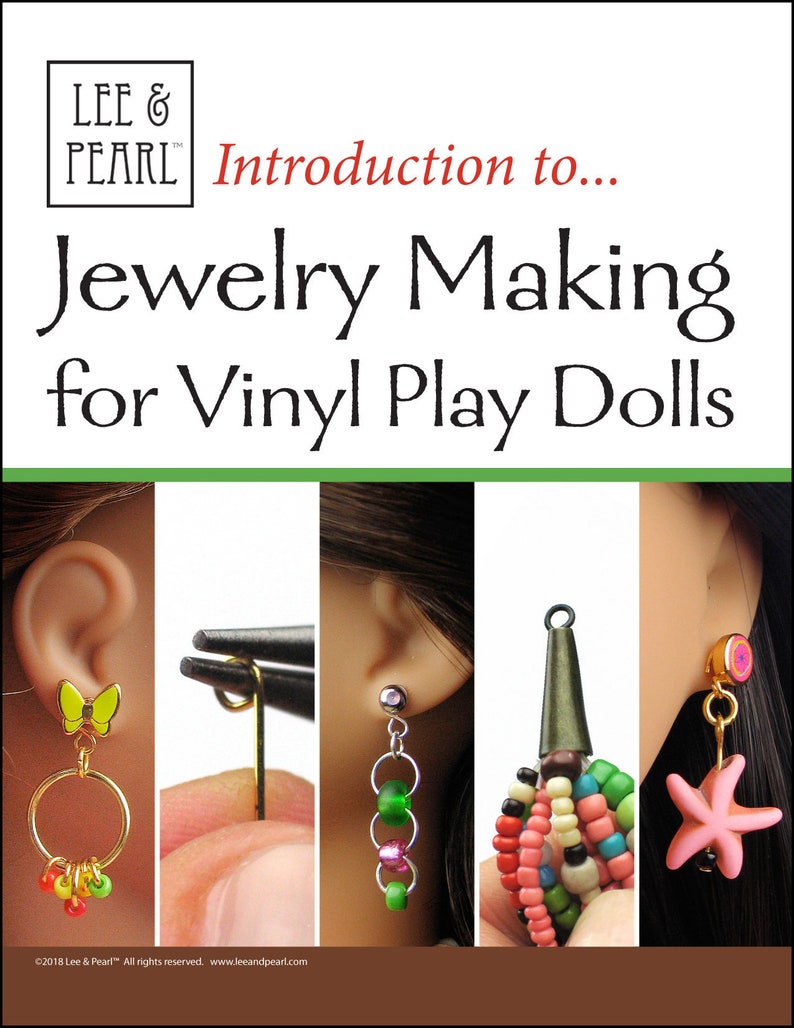 As I mentioned in 18″ Doll Jewelry – Part 1 Ear Piercing, a helpful resource is the Introduction to Jewelry for Vinyl Play Dolls – an instructional eBook from Lee & Pearl. There is more about the tutorial in this newsletter from Lee and Pearl. You can instantly download this PDF – and with the basic supplies mentioned above – get started making doll  jewelry!
Other resources include books on jewelry making and friendship bracelets. Jewelry making kits are another option for learning skills. Beadery Craft Kit Bead Boxes and Jesse James Kit Jewelry Beads are geared toward kids. Children under three are generally considered too young to play with beads due to the risk of choking.
Bead Storage
There are many bead storage systems. My favorite for years has been this acrylic box with twenty-four round containers with lids – which I use to store small beads, buttons, and sequins for crazy quilting and embroidery.
It is easy to see the contents – and they stack well. I try to cut out identifying information from the packaging when possible.
Larger beads fit better in stack containers such as the Beadalon Organizer Stack Containers Medium 5 pc.
Some crafters like to use containers with multiple compartments that may be also used for embroidery floss or small craft items. The compartments may be fixed or have adjustable dividers. It is important to find ones with lids that securely prevent spillage of small beads among the compartments when the box is handled.
Since silver plated jewelry findings tend to tarnish over time, there are boxes with anti-tarnish dividers such as the ArtBin Anti-Tarnish Box.
Some bead and findings assortments come in their own box – such as John Bead Czech Bead Recipe Box beads, …
Multicraft Bead Glass Kit beads, and…
and John Bead Findings Assorted jewelry findings.
This posting pretty much covers what I learned about basic jewelry supplies, tools, findings, embellishments, resources, and storage ideas as I started making jewelry for 18 inch dolls – especially my niece's American Girl doll and my model – Audrey Ann – an Our Generation doll.
My next posting in this series will cover the first jewelry set I made – a lovely set of pearl earrings, necklace, and bracelet. Please check back soon.