Share the adventure as Audrey Ann gets her ears pierced!
This blog posting is part of my ongoing series about making fun accessories for 18 inch dolls: doll bed/storage, clothes rack, jewelry, headbands, and shoes. Audrey Ann is my Our Generation 18 inch doll and fashion model for all the clothes and accessories in this series. The first two posting are 18 Inch Doll Bed and Storage – Part 1 and Part 2.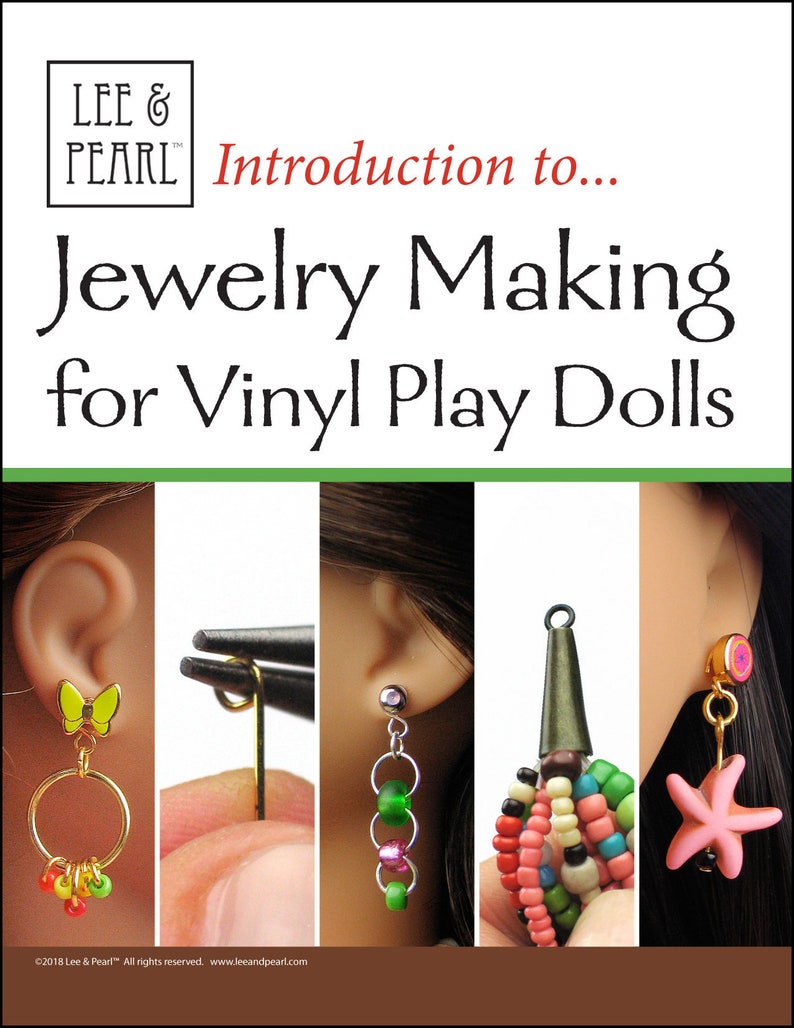 I wanted to make matching earrings, necklace, and bracelet sets to coordinate with each outfit – but first Audrey Ann had to get her ears pierced. There are multiple online articles and video tutorials about piercing vinyl 18″ doll ears. The most helpful source I found – and highly recommend – is a PDF called Jewelry Making for Vinyl Play Dolls from Lee & Pearl. Learn more about the PDF in this Lee & Pearl newsletter. This tutorial provided valuable information on piercing as well as making doll-sized jewelry. It was well worth the small price for a downloadable version.
Types of Posts for 18″  Doll Earrings
There are two types of earring posts for 18″ dolls. American Girl doll earrings have thick posts. The doll ears can also be pierced to accommodate standard human size earring posts. I did not want to make the hole large enough for the American Girl earring posts because:
The hole needed to be made with an electric drill and correctly sized bit instead of a pushpin or needle
The hole is large and somewhat unsightly without an earring in place
The American Girl doll earring sets include generic posts that different charms hang from which results in lots of little easy to lose pieces
I wanted my niece (and I) to have the option of also wearing the earrings
The jewelry findings (earring parts) to make earrings with human- sized posts are easily available and inexpensive
Piercing the Ears
Start by marking the place for the holes – I used a pencil. Make sure they are even with each other by looking at her face from different directions.
Lay the doll down with her head on one side resting on a firm surface. Heat the area gently, briefly with a hair dryer on low avoiding her hair and eyes. Use a standard pushpin to make the hole. Insert a post to make sure the hole is big enough and leave it in for a while so the hole will stay the same as the vinyl cools.
NOTE: We pushed straight in perpendicular to the ear – BUT I wish we had angled the pin to the back of her head a bit so the earrings were directed forward instead of sticking out from the side of her head when she wears them.
I will show you some of the earrings I made, but will discuss more about how they were made in upcoming postings. Here are the first earrings I made for her. You can see how they stick out a bit to the side – but still are cute!
As I mentioned earlier, it is possible for both the American Girl size posts and standard human size posts to use one pair of posts and loop different earrings over them secured in place by the ball on the post. When I tried this on a few pairs (I think this is an example), I found there were itty bitty posts that had to be kept with multiple tiny earrings. It felt like there were too many small pieces which would be easy to lose – especially for a child. Earring posts are inexpensive; making complete earrings seemed a better option for maximum playtime enjoyment.
Here are some more of the earrings I made from posts, jump rings, charms …
and beads.
It is fun to coordinated earrings with outfits!
Alternative Methods
If you wish to pierce the ears with a large hole for American Girl earrings, there are tutorials available online as well as in the Jewelry Making for Vinyl Play Dolls from Lee & Pearl. This PDF also provides resources for the figure-eight style loops used to hang earrings from posts for both sizes of posts.
Final Note
Since silver plate earring findings can tarnish with time. it is best to avoid leaving earrings in for a long time. They should be removed when the doll is stored. Also, when looking for earring posts to use, the ones with balls stick out more than the ones with flat backs.  Craft or jewelry stores often sell sets of earrings on cards – some will have flatter backs. These  can be worn by themselves or earring pendants can be hung from the post with a loop that goes over the post. To make earrings of one piece, choose posts that have loop on the bottom to attach the rest of the earring with jump rings.
Please check back soon for my next posting in the 18 Inch Doll series to learn more about jewelry making – including tools, findings, embellishments and instructional resources. As a somewhat beginner jewelry maker, I will share with you what I learned and found useful, as well as some completed projects.