Check out our Craft Trends board on Pinterest!
I've been seeing a ton of wall  hanging ideas lately that use yarn and other textiles. I love that they add texture and warmth to a room in an unexpected place. Here are some of my favorites that you can make yourself.
Deceivingly Easy Knotted Wall Hanging
I love the texture, color, and geometry in this wall hanging. It's a little time consuming, but it's something you can pick up while watching TV and you'll have a super cool art piece that you made yourself. You can customize the colors to fit your room.
Modern Gold Wall Hanging with Tassels – Brittany Makes
The simple addition of brass tubing to a tassel wall hanging really takes it to the next level. I love the look of hard and soft with the metal and the fiber.
Modern Wall Hanging with Copper Accents – Project Nursery
Speaking of metallic accents… I think this hanging has a totally different feel than the one with brass tubing. This one is so much more graphic with the contrast of the black and white. This just proves that you have a ton of style options with wall hangings.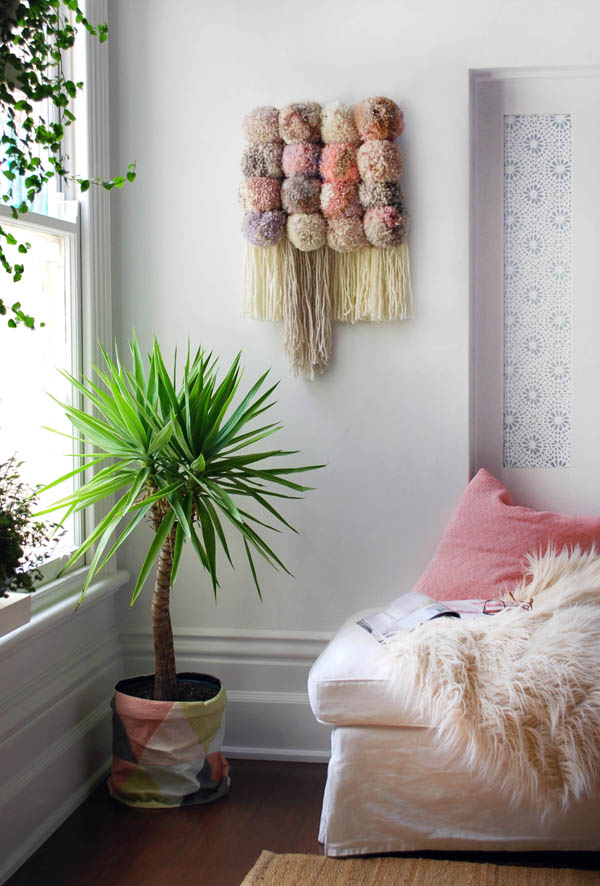 Pom Pom Wall Hanging – We Are Scout
This pom pom wall hanging looks super easy to make and I love the texture it adds to the room. I'd have a pretty hard time not touching it every day, though. It just looks so fluffy!
DIY Wall Hanging – Oh the Sweet Things
Here's another wall hanging that's perfect for the minimalist or Scandinavian style. I love the addition of the wood beads, which is easy to do and adds a nice natural feeling to the hanging.
If you're feeling inspired by these wall hangings, I've collected even more ideas on our Craft Trends Pin Board!