I always get so excited when I find a rainbow. There's just something about all those pretty colors right after a downpour. Here are some fun ways for you and your kiddos to bring rainbows inside so you can enjoy them whenever you want!
This is one of those awesome crafts where you probably have all the supplies already at home! Fun, easy enough your your littlest ones, and even a chance to learn about mixing colors- this project has it all.
Paper Plate Rainbow Fish – A Little Pinch of Perfect
The Rainbow Fish was one of my all time favorite books when I was little. So naturally, when I found this project I was super excited to feature it! Go check out A Little Pinch of Perfect for instructions on these adorable recreations.
Have a ton of broken or too-little-to-use crayons laying around your house? Then this project is perfect for you! Plus they add a fun twist to coloring for your kiddos.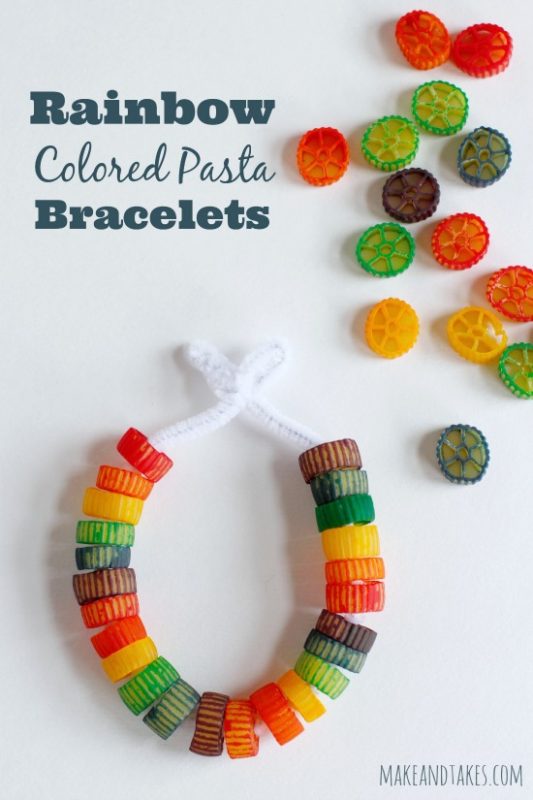 Rainbow Colored Pasta Bracelets – Make and Takes
Take your rainbows everywhere you go with these fun bracelets! Your kiddos get to play with colors and patterns, and then they get to show off their hard work. Find this tutorial and more at Make and Takes.
Rainbow Wind Chimes – Happy Hooligans
I love these rainbow wind chimes from the blogging mama behind Happy Hooligans! Go on over to her blog for this fun tutorial and much, much more!
Rainbow in a Jar – Flax & Twine
Warning! This project is MESSY, but by the looks of the outcome, totally worth it! Have a look at Flax & Twine for this tutorial.
Now, time to get to crafting so your house can be filled with a little extra color!