It's one thing showing off your crafts in your home, but it's a whole new ball park when you can wear them and show them off wherever you go.
Not Your Mother's Macaroni Necklace
My favorite crafts always have two things in common: 1.) they're easy to add your own flair to, and 2.) they're made up of items that are already in the house. This cute craft has both of those attributes, plus it's super cute! What more could a girl want?
I used to have countless designs made out of perler beads lying around my house when I was a kid and nothing to do with them once the fun of making them was finished. This craft is a fun way to re-purpose old ones, or show off new ones!
Cupcake Liner Lei – Create. Craft. Love
Yeah, the store bought lei's are cute enough. But what's cuter is a homemade version that you can make whatever color, pattern, and length you please. Plus, who doesn't have a bunch of random cupcake liners just hangin' out in their kitchen?
Why spend extra money on fancy flip flops when you can use that as an excuse for this fun crafting project? Make them matching or have them show you and your kiddos own personal style. Either way, you're bound to have a great time making them. Also, with the 4th of July right around the corner, you can make red, white, and blue for a perfect patriotic day of activities in the sunshine!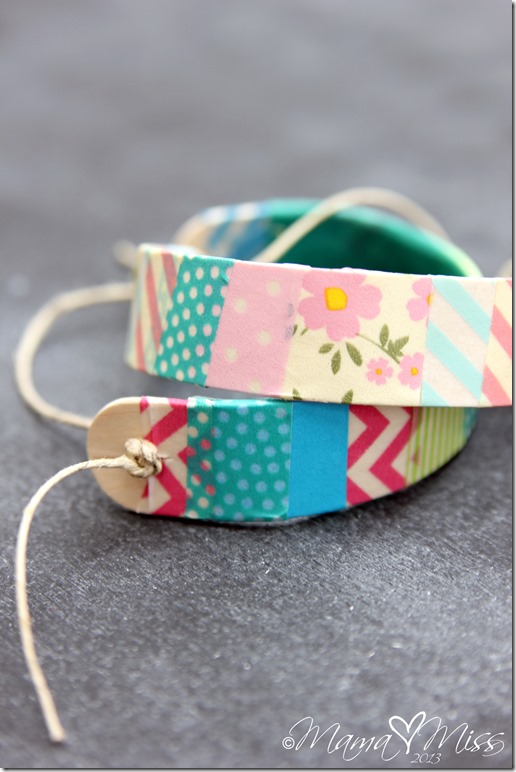 Washi Tape Wooden Bracelets – Mama Miss
Spend some time bonding with your little one over making super sweet (and cute!) bracelets. Friendship bracelets or mother-daughter bracelets, call them whatever you want, but I'm calling 'em adorable.
Not only is the outcome of this project cute as can be, but it's also a little bit of a science experiment! You're kiddos will have fun making these shirts, and will also be fascinated by how the rubbing alcohol reacts to the markers.
Now, get to crafting with your kiddos so you can show off just how talented and creative you all are!