Check out our Craft Trends board on Pinterest!
At the aquarium, I have always been mesmerized by the jellyfish tank. They float around as if they're made of paper and seem so beautiful. With summer right around the corner, a lot of us will be heading to the beach. Instead of worrying about jellyfish stings, why not make these colorful jellyfish crafts instead?
This fun shirt DIY is easy enough for a child and they'll love wearing this brightly colored shirt on their next beach or aquarium trip. This would also be a great activity for an underwater themed party!
Clay Jellyfish – Journey into Creativity
I love this more elegant take on a jellyfish craft. I would be so happy to see these hanging around a beach house. It's a great way to use up brightly colored scrap fabric and the results have a unique boho and natural style.
Jellyfish Lights – Kids Activities Blog
Kids can make these fun lights for their own rooms and enjoy them all summer long. Kids can use their favorite colors to create a jellyfish that's uniquely theirs!
Plastic Bag Jellyfish – PBS Parents
This is basically a homemade version of the jellyfish tanks that I love so much. Now you can take them home!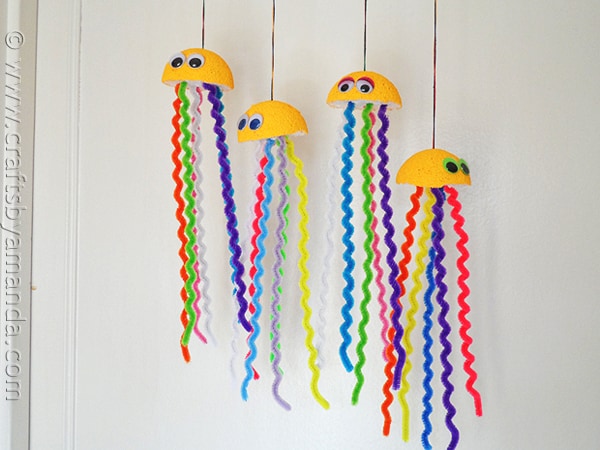 Rainbow Jellyfish Craft – Crafts by Amanda
I adore the bright colors used in this craft and the end result is just adorable. Kids of all ages would love to get involved with this craft and they'll have tons of fun and colorful jellyfish to enjoy in no time.
Do you have any underwater craft loves? I'd love to hear! And if you want to see even more jellyfish craft ideas, head to our Craft Trends Pin Board.