Check out our Craft Trends board on Pinterest!
Leather is a super versatile craft supply that can make anything look high end. With very little effort, you can have a really nice looking piece that you'll be proud to show off. If you're willing to put a little work into your crafting, you can make gorgeous things that look like you purchased them at an expensive boutique. Here are some of my favorite leather crafts.
The right hardware can turn a simple piece of leather into a unique statement piece. I love how tough and chic this bracelet looks. It would be great with a pair of jeans or with a black dress for a night out.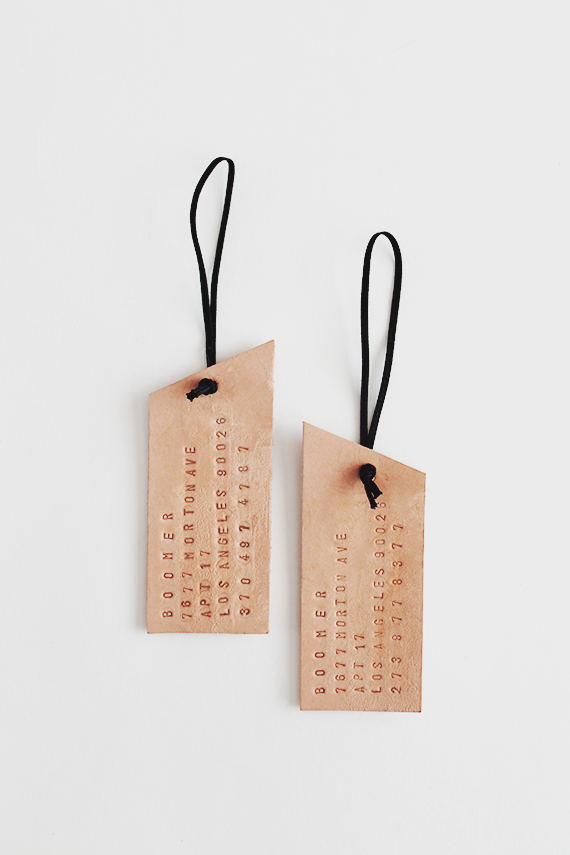 DIY Leather Luggage Tags – Almost Makes Perfect
Though I fancy myself as much more of a world traveler than I actually am, I would love to have some pretty luggage tags to make my suitcase stand out on the carousel. I love the way these simple leather tags look, they would instantly add style to a suitcase.
Folded Leather Basket – Between the Lines
You can never have too many baskets and bins to corral your stuff. These would look great in any home and be a wonderful way to organize a desk.
Leather Sunglasses Case – Always Rooney
Summer is quickly approaching, and it's so nice to always have a pair of sunglasses on hand when the sun is out. It's so much easier to protect your eyes when you've got your sunglasses handy in a cute case!
Easy Leather Strap Shelf – Burkatron
There is something so lovely and natural about leather in interior design. I love that this tutorial is easy enough for anyone to incorporate leather into their decor.
Do you have any fun leather crafts? We'd love to see! Share them with us in the comments or send an email. If you're inspired by these leather crafts, check out even more on our Craft Trends Pin Board.