Spring is a great time to explore outdoors with the little ones. What changes do they notice in their environment, at the park, even in their own backyards? How has the change in weather affected the places we visit? Are there more ponds or vernal pools (small seasonal ponds) at the park? Do you hear frogs chirping after sundown and can you spot jelly-like globs of frog eggs or even little tadpoles during the day? Let's see what we can learn about a Frog's World! Here are some arts and crafts ideas to go along with nature walks, and books about frogs and other amphibians in our environment.
I recall making origami frogs when I was a kid. Origami was one of my favorite crafts as a school aged kiddo. These are especially fun because they actually jump.
Origami Frogs – Easy Peasy and Fun
This craft project is fun, sustainable and it's a terrific way to illustrate the science behind the amazing life cycle of a frog.
Frog Life Cycle – Still Playing School
This blog post has a list of great ideas for practicing math, science and language arts skills using these easy to make lily pads and toy frogs (or you can make your own frogs of course.)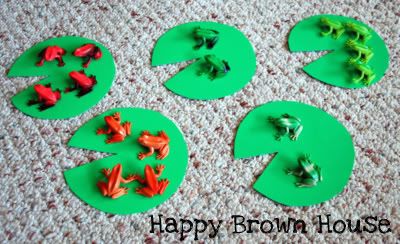 Once Upon a Book: In the Small Small Pond – Totally Tots
Here's one option for making your own frogs. I love how each child's frog is so distinctive.
Painted Rock Frog Craft – Brimful Curiosities
Here's another blog post with great ideas for Frog crafts and books. If your kids don't know this poem yet, it's easy to memorize. Even the youngest children love trying to mimic the hand gestures and sounds.
Frog and Toad – First Grade Best