Check out our Craft Trends board on Pinterest!
One of my earliest Easter memories actually comes a few weeks after Easter. Our living room had become super smelly, and no one could figure out why. Eventually, we discovered that my dad had hidden an Easter egg a little too well, and no one was able to find it until our noses led it to us! Save yourself from experiencing this with these fun Easter Egg crafts that won't go bad!
These eggs would make great favors or basket stuffers. Print out one of the free egg templates, or design your own!
DIY Salt Dough Eggs – Design Mom
I love the bright, fun colors you can paint these eggs. You can get as artistic as you like and then hang them on an Easter tree.
Easter Egg Potato Stamping – Crafty Morning
This is a fun family Easter craft for kids of all ages. I could see your prints being made into super cute wrapping paper for any gifts you're giving!
Use some scrap yarn to decorate wooden eggs with this free crochet pattern. These eggs are a quick way to use up your yarn and you'll end up with pretty Easter decorations you can use again and again.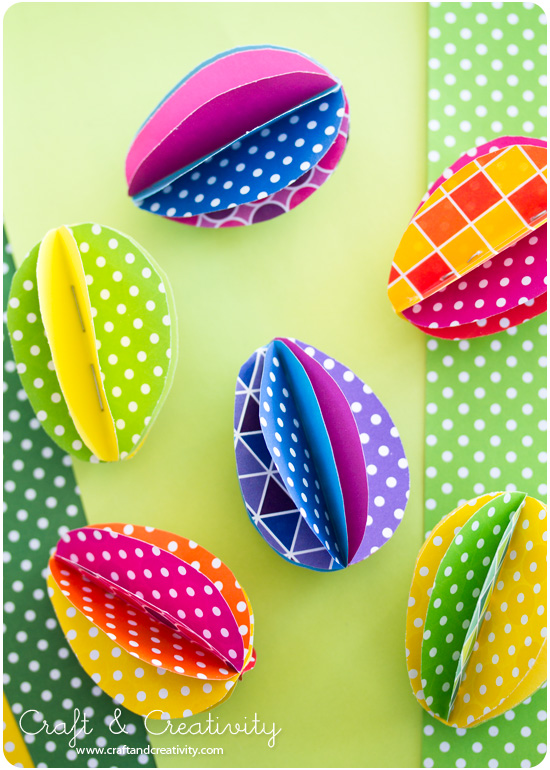 Paper Eggs – Craft & Creativity
Grab some colorful spring paper and make your own 3D paper eggs. These would look really great strung up on a garland, but you can have a ton of fun hunting for them too.
Are you decorating hard boiled eggs, blown eggs, or are you going egg free too? Share any projects you're making, we'd love to see! If you want even more Eggless Easter ideas, check them out at our Craft Trends Pin Board.