By Craft Trends Contributor, Lacey. Check out our Craft Trends board on Pinterest!
Today is Halloween. It being on a Saturday means Halloween parties are a plenty and the kids might be able to stay up a bit later to trade candy. To make your door and house stand apart from the rest, you don't need to hand out the best candy. Instead, check out these Halloween wreaths that can accentuate your love for Halloween and let your guest and neighbors know where the best Halloween party is taking place.
Whoot Owl Wreath – Think Crafts
This owl wreath is not only adorable, it's perfect for trick-or-treaters arriving at your door. It's both funny and creative and it won't scare any younger children. This is the perfect craft to let your wreath also take on a new character and costume.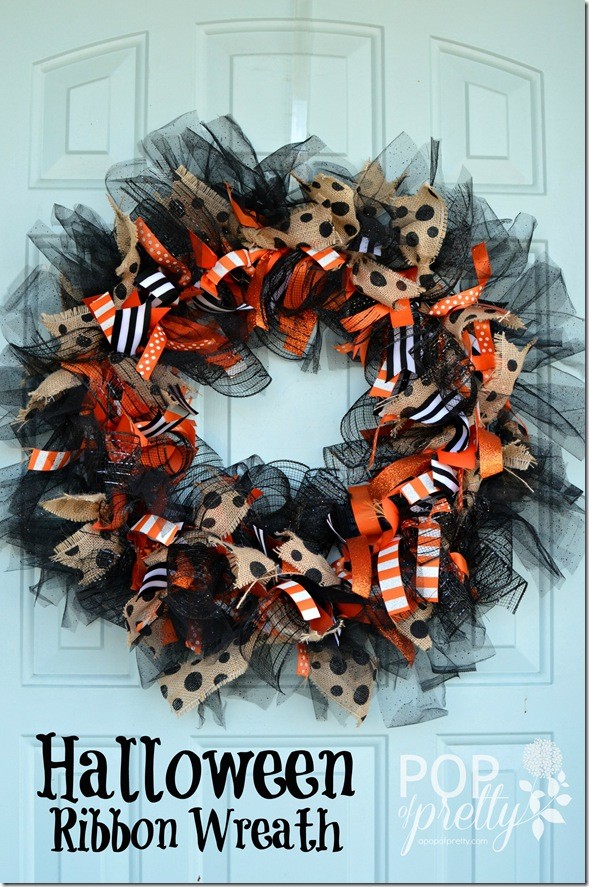 Halloween Ribbon Wreath – A Pop of Pretty 
If you are looking for a quick wreath to whip up, possibly at the last moment, this ribbon wreath is an easy way to add character and decoration to you door. Plus, it's an excuse to buy more ribbon, which means I already like it.
DIY Witch Wreath – Reasons to Come Home
If you've been wanting to try your hand at a burlap wreath, this is the perfect excuse. You can even move mistakes to the top to be hidden by the hat. This is such a fun way to make your door stand out from the others on the street.
Buggy Mummy – Bower Power 
I particularly enjoy this wreath because it makes use of something I often forget, the hook. The tutorial also shows how to make this wreath glow in the dark, meaning your guest will appreciate it even when it gets dark.
Halloween Chevron Wreath – Tatertots & Jello
I can't help but love the simplicity of this wreath. I bet it would be another quick one to make and will let your guest know which door to knock on.
Have you been experimenting with Halloween wreaths? Let us know in the comment below! Also, check out these other Halloween wreaths we've been posting on our Craft Trends Pinboard!