By Craft Trends Contributor, Lacey. Check out our Craft Trends board on Pinterest!
At my school, the acorn is our second mascot. Though this may sound weird, due to the old oaks we have and a perpetual fear of being hit by a fallen acorn when walking to class, the acorn has become a symbol for our school. Needless to say, I am fond of the acorn, which is why the recent craft trend of acorns brings a smile to my face. Here are just some of the acorn crafts I have seen and wanted to make for myself.
Acorn Cap Candles – Think Crafts
These cute candles won't burn for long, but would make for a great decoration at any fall party you might be hosting. You can also make a ton with not much wax, so replacing them throughout the night would be easy.
Embellish a Photo Frame with Acorn – An Extraordinary Day
This frame is the perfect way to ease yourself out of summer and into fall. I love that it uses the acorns imperfections to its benefit and gives a "cabin" look to any place you may put it. Putting a pressed leaf or your favorite fall memory inside the frame will make it even better.
How to Paint Acorns – Home Stories A to Z
Add a little something extra to your acorns by painting them and decorating them with glitter. I'm tempted to do this myself with my school supplied acorn I have to give back at graduation. I'm not joking, I have a school supplied acorn.
Make an Acorn Shadowbox – Mod Podge Rocks
It's official, I have to make this acorn shadowbox in my school colors. I love that this can be an extra decorative item to put on a shelf. It's interesting enough it's sure to get a double take and be something you want to look at all season.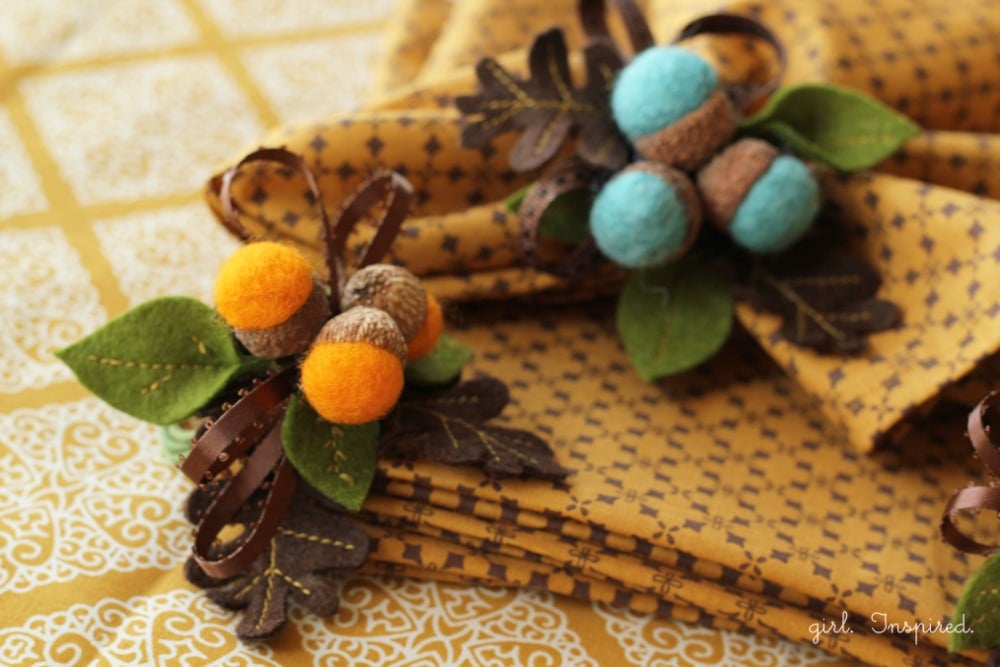 Autumn Acorn Napkin Rings – The Girl Inspired 
The napkin rings are the perfect thing for hosting dinners, after all, Thanksgiving is quickly approaching. I love the felt balls used to create the acorns and using them could yield even more crafting opportunities.
Do you also have a strong connection to acorns, or just like them? Let us know in the comments below! Also, be sure to check out the other acorn crafts we've been posting on our Craft Trends Pinboard!