My nieces love finger puppets so I thought on my next visit home to see them I'd bring along supplies for making our own puppets. Here's a variety of puppet making projects to inspire you and your little ones. Great especially for a rainy day craft.
Sock puppets are the classic, inexpensive, puppet project we all know and love. Here's a great tutorial to get you started.
Sock Puppets – Think Crafts
These paper Dragon Puppets would be a fun craft project for a dragon themed birthday party.
Dragon Puppet Tutorial – Ruffles and Rain Boots
The Old Lady Who Swallowed a Fly has always been a favorite in my toddler classroom. This would be a great project to make with toddlers and preschoolers to use as props while singing and as toys for them to play with independently after they've learned the song.
The Old Lady Who Swallowed a Fly Upcycled Puppet – Twodaloo
My 3 year old niece is very into turning out the lights and playing in her tent. (Her parents are not the outdoorsy type so this is as close to camping as she will get until she's much older.) This shadow puppet theater would make an awesome addition to our pretend 'camping' play. Shadow box theater and puppets are very easy to make with items you probably have on hand.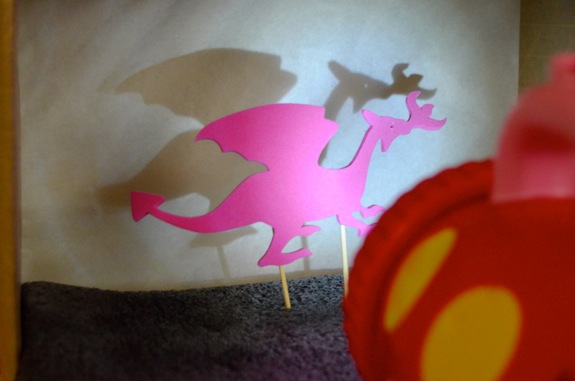 How to Build a Shadow Puppet Theater – Inner Child Fun
I knew there was a reason I didn't throw away gloves with missing matches! These glove monsters are awesome to make and play with!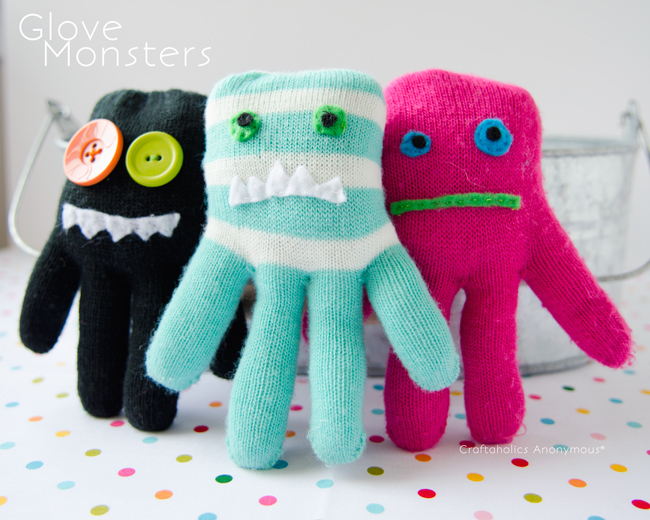 Glove Monsters – Craftaholics Anonymous