By Craft Trends Contributor, Lacey. Check out our Craft Trends board on Pinterest!
With Father's Day fast approaching, I went on the hunt for affordable and crafty ways to celebrate the occasion. Through my search I found these fantastic ideas that Dad will be sure to appreciate. As someone who has made a lot of coupon books and terrible versions of breakfast in bed, these crafts bring a clever way to celebrate the father in your life. Not to mention, he won't have to pretend to like the burnt toast and coffee grounds you've brought him, or is that just me?
15-Minute Father's Day Sock Bouquet – one good thing
As a universal truth, I believe that all dads love socks. This is a clever way to present his brand new pairs that will be sure to enlist a smile. Make sure they are washed and new before you tell him to "smell the roses."
Glasses Case – Think Crafts
Does your dad wear sunglasses? Does he own a tie? Then this easy to make glasses case will be a useful tool for him to have year round. All you need is a tie from the thrift store to make a memorable gift this year.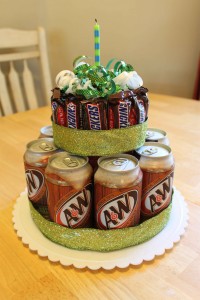 Thrifty and Fun Birthday Cake Gift – Pinching Your Pennies
Instead of the traditional cake, go for Dad's favorite snacks and drinks. It's a great way to give Dad what he really wants. Not to mention, this has the potential to last longer than a cake would keep for. Whether that will actually happen, is another story.
DIY Bottle Opener – Shanty2Chic
This DIY Bottle Opener looks great and sounds surprisingly easy to make. Plus, putting it outside would make for a very easy way to keep the grass clean during parties. Your Dad will love the convenience, especially if it's next to his grill.
Father's Day Bottle Labels and Tags – Botanical Paperworks 
I love this. Giving Dad his favorite drink with a personalized label, and come on, those ties. Presenting this to the fathers in my life would probably produce a sarcastic remark, but I can imagine the appreciative tone behind it.
Have any crafty ideas for your father's day gifts? I'd love to hear them. Also be sure to check out other fun crafts for Father's Day on our Craft Trends Pinboard!