Teaching kids how to be more sustainable by Reducing, Reusing and Recycling is part of our daily routine. By now my little ones correct me if they see me being careless about water usage or throwing something away that could be useful. Earth Day crafts are a great way to celebrate the Earth and our home and brainstorm more ways that we can preserve our resources and protect the environment. Join me and my little ones in our celebration with these great tutorials for Earth Friendly Crafts!
These Earth Crayons are easy to make, and so cool to color with! What a great way to reuse all those broken pieces of crayons.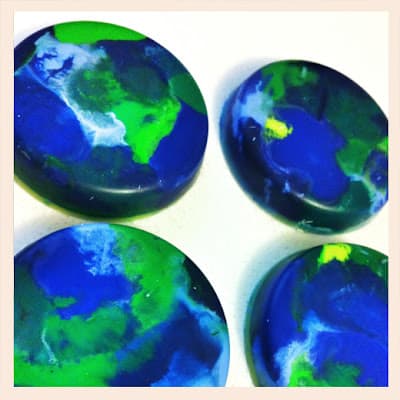 Homemade Earth Crayons – Sandy Toes & Popsicles
Here's an easy way to give back to the birds in your own backyard. This recycled craft will be especially appreciated in parts of the country where Spring hasn't quite yet sprung. This is also a great way to teach about wildlife and nutrition.
Easy Bird Treat – Think Crafts
My youngest niece (2 years old) is fascinated by Pinwheels and wind chimes, I think it's because they seem to move on their own, and she can make them work too. If your little ones also love these things they will love making their own pinwheels, with items you have in your recycle bin and around the house.
Recycled Pinwheel – Think Crafts
Painting with nature is a fun way to interact with specific objects from your own backyard like pine cones, pussy willows, stones, flower petals or dandelions that you have already blown the seeds from. Kids can experiment with a variety of natural elements to experience different brushstrokes. You can even use recycled poster paper or even old sheets to make an Earth Day mural.
Painting With Nature – Laughing Kids Learn
This Recycled Magazine Flowers tutorial teaches the possibilities for up cycling magazines and newspapers, but it is also an example of intriguing artistic principles, and can be used to make a great Earth Day or Mother's Day Card!
Recycled Magazine Flowers – Teach Kids Art
Have more great ideas for Earth Day Crafts or Sustainable/Green Crafting, please share!