This week I got to hang out with my school aged niece who was on spring break and she asked me if we could make jewelry. So, I set out to find some fun, easy to follow tutorials for making jewelry we would both be proud to wear! I found some great tutorials for making jewelry with a variety of materials including fabric, paper, washi tape and popsicle/craft sticks! With Mother's Day just around the corner, I thought it might be a good time for  crafting presents for the mom's in our lives also.
These fabric bead necklaces are so much fun to make, and to wear! My niece made one for her mom, and I made one for my sister, who is about to have her second daughter sometime this week!
Fabric Bead Necklaces – Babble Dabble Do
If you're more of a scrapbook enthusiast like me, you probably have a collection of scraps of paper that you can't stand to throw away, because they're too pretty. Here's a way to put those beautiful papers to work as accessories! The Paper Beads my niece made turned out so great, I might ask her for a paper bead bracelet for my birthday!
Paper Bead Tutorial – PaperVine
This is a great project for older children and young adults. The results are so cool, they would make a great addition to a birthday present for friends or a mother's day gift!
Simple Square Knot Bracelet – Quiet Lion Creations
This Washi Tape Wooden Bracelet is simple to make, and very cute to wear. My niece wanted to make one for her mom and one for her cousin using their favorite colors.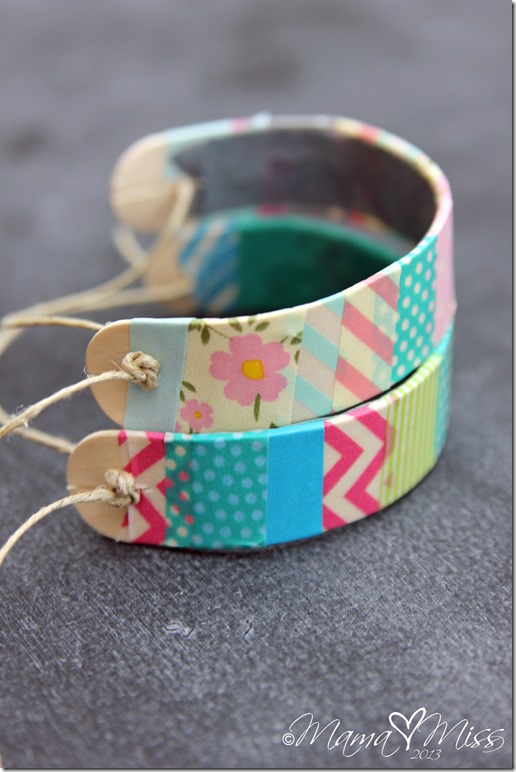 Washi Tape Wooden Bracelets – Mama Miss
Darice has some great patterns for one of our classic favorites, Friendship Bracelets! We tried numbers two and five and they turned out great, shimmery and bright, the perfect accessory for a best friend.
Five Fast Friendship Bracelets – Darice