I've been curious about making my own mosaics for a long time now. I've even been collecting broken china, seashells and sea glass for possible projects. Here are some of the most helpful instructions and tutorials I've found for making mosaics. I hope you find them inspiring!
This tutorial for making your own mosaic is a great place to begin your research and preparation.
Basic Mosaic Design – Arts & Crafts Center
Mosaic mirrors are my favorite. I've spent hours searching Etsy and craft fairs for the perfect mosaic mirror but I haven't settled on one yet, mostly because I know I'd prefer to make my own with found objects like broken  china and seashells in colors I have chosen to match the colors in my home. This tutorial will help bring you closer to designing and creating your own mosaic mirror.
How to Make a Mosaic Mirror – The Unscripted Wife
These mosaic coasters are great practice for making mosaics and a lovely idea for housewarming gifts. I might make some for myself by using leftover tiles from my mosaic mirror project. Using the same tiles in multiple projects may lend some much needed continuity to my home decor.
Mosaic Cocktail Coasters – Running With Sisters
I wanted to add another mosaic mirror tutorial because I can't read too many great tutorials on this technique. I'd love to create a design like this for an entry way mirror.
Mosaic Mirror – Martha Stewart
Mosaic Mason Jars are an inexpensive way to add charm and light to your decor. Wouldn't these be lovely lit with tea lights on the mantle place or window sill?
Mosaic Mason Jar – Mason Jar Crafts Love
This faux stained glass mosaic is beautiful and bright and you don't have to handle glass pieces to create it. Even kids can help with this mosaic craft!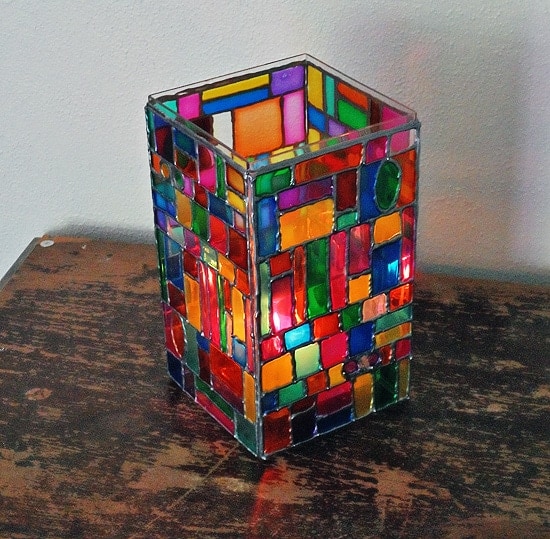 Faux Stained Glass Mosaic Luminary – Crafts by Amanda