If you have a creative child around, there are many great craft supplies to keep them busy, and keep you worry-free. Keep the right supplies on hand, and crafting with your kid can be fun and help you build memories that can last well into their lives.
We're wrapping up 2014 this week, and whether your child is staying up, or heading to bed early, there are still many ways to celebrate the new year. Here are a few crafts and activities kids can do while they wait for midnight, or when they wake up in the morning.
Create a 2015 Jar to hold memories for the upcoming year. Next year, you can go through everything you collected throughout the year and reminisce.
Kids New Year's Glasses – Artsy Momma
Create some 2015 glasses for your New Year's Eve celebration! Make sure to set out lots of ways to decorate for extra fun.
Easy DIY Hourglass – Shabby Creek Cottage
Create an hourglass to count down until midnight, or to keep time for lots of fun family games!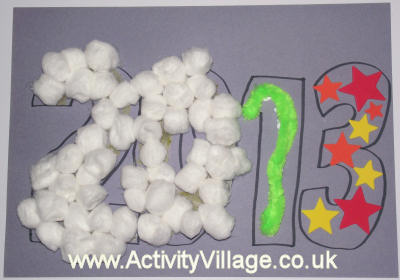 New Year Collage – Activity Village
Younger kids will love to create a New Year collage with various objects around the house. You can use this collage for learning or just to occupy a toddler.
Paper Plate Party Animal – Kix Cereal Blog
I love these fun "party animal" noisemakers. They're a great way to keep kids busy while they create their own monsters to help them ring in the new year.
For more ideas for crafting with kids, check out more Kids Crafts Posts.