As crafters, we all hesitate to throw anything that might be useful away. I spend a lot of my time trying to come up with creative ways to use up those "free" craft supplies. Creating something useful from recycled pieces is one of my favorite ways to craft. It's inexpensive, good for the environment, and simply a fun way to spend an afternoon. Here are some impressive recycled craft projects to get your creative juices flowing and inspire you to go digging through your recycling bin.
Old soda tabs and bottle caps can be glued together creatively to make some fun little animals. This little bottle cap owl would make a great refrigerator magnet and it is almost entirely made up of free supplies!
DIY Storage Bags – Style at Home
Do you have a pair of jeans just sitting at the bottom of your dresser? I have a couple that are unwearable with holes and stains, but I've never been able to bring myself to throw them away. Now I know why!
Designer Paper Lamp – Instructables
I find it very hard to believe that this gorgeous hanging light piece is made up of old soda bottles! I love the grouped look, but you could also make a miniature version with those tiny water bottles and put them on string lights!
Bike Rim Clock – The Gunny Sack
If you have recently upgraded to new bike tires, you can make a cool clock from the scraps. This would make a great statement home decor piece for anyone who loves to bicycle.
Shampoo Bottles into Monster Pencil Holders – Madame Criativa
These cute little pen holders are made from old shampoo bottles! I'm sure any kid will be excited to do homework with these fun friends watching them.
Cardboard Whale Tissue Box Holder – Pink Stripey Socks
Take an old cardboard box and create a whimsical tissue box cover to brighten up the bedroom of a sick kids. This whale can help them get through their next cold.
Old egg cartons and a little bit of glitter dust can turn ordinary string lights into lovely garden lights!
Recycling Containers with Crochet – Filth Wizardry
I absolutely love these cute little totes made from old containers. You can crochet them with favorite colors or scrap yarn and let the kids decorate the containers!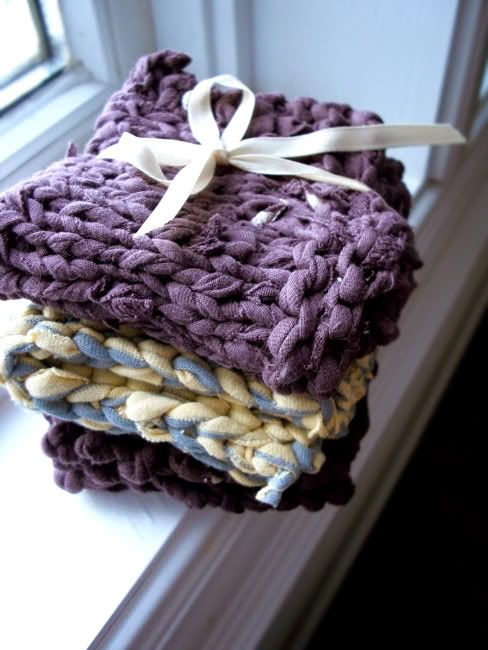 Recycled T-Shirt Dishcloths – Robot Dinosaur on Craftster
I think everyone has way more t-shirts than they need. There are so many runs and clubs that offer free t-shirts, our drawers are brimming! Grab a few that have less sentimental value and turn them into some really handy dishcloths!
Cat Planters – Bru DIY
Looking at these cute cat planters, you would think they were expensive ceramic pots. It's so hard to believe that these little guys are made from upcycled soda bottles!
Now that you have been thouroughly inspired by all of these creative craft projects, it's time to see what your home has to offer! Don't forget to share your best recycled projects with us! Send us an email, or post your projects on our Facebook page!