By Craft Trends Contributor, Gillian from the blog Dried Figs and Wooden Spools. Check out our Craft Trends board on Pinterest!
It's getting to be that time of year again! Pretty soon the caps and gowns will be out and the graduation parties will be starting! While I don't have any grads to plan for this year I will in a few years time so I've been collecting some fun Graduation ideas for when the time comes!
DIY Marquee Letters – Celebrations
What grad wouldn't love to be welcomed home with their class year up in lights? These DIY marquee lights would be a fabulous addition to any party and a fun piece of wall art to remember the day by later on!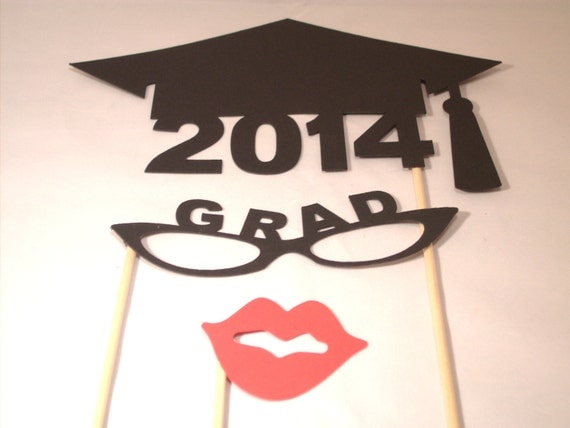 Graduation Party Photo Props – Itty Bitty Wedding Etsy Shop
Why not add to the memories of the night by setting up a photo booth? And what photo booth is complete without some fun props! These graduation props would make the night, and the memories that will come with it!
Graduation Confetti Throwers – eVite
These confetti throwers are the perfect way to welcome a grad when the step off the stage! I love their cap tops and the idea of color coordinating the confetti inside to match school or favorite colors! Make a bunch and hand them out to the waiting crowd! Your grad will love it!
Graduation Gift – The Idea Room
Every grad loves receiving money for their future plans and this is my favorite way of giving that most appreciated gift! Because who doesn't also like candy? Roll up some cash with a sweet treat and keep your grad smiling!
Are you planning some graduation crafts this spring? Let us in on the secret, we'd love to hear your ideas! And for these and other graduation craft ideas, check out our Craft Trends Pinboard!