When I was a little girl, I used to spend vacations at a cabin in the woods with my grandparents where tall sugar pines dropped their enormous pinecones. I love those huge pinecones, they amazed me and became all sorts of things in my imaginary play.  And to this day I still have a few precious, and slightly rickety, pinecones from those trees that I pull out for winter displays. Pinecones make excellent fodder for all sorts of crafts. Perfect for winter displays, children's crafts or just to bring a little of the outdoors in. Here are a few of our favorite projects using pinecones for this winter.
Metallic Pinecone Place Settings – Eclectically Vintage
These silver painted pinecones look more like sculpture than something you might find on the forest floor. Pretty both as place card holders or just in a bowl on the table, silver painted pinecones add an elegance to these otherwise a little rustic additions to your decor. The same style could be achieved with a wide array of metallic paints to match different styles.
Painted Pinecones – Under the Sycamore
On the other side of the coin are these bright painted pinecones. So much fun! While these almost neon colors are fabulous, you could use almost any combination to add a little spunk and brightness to your mantle display.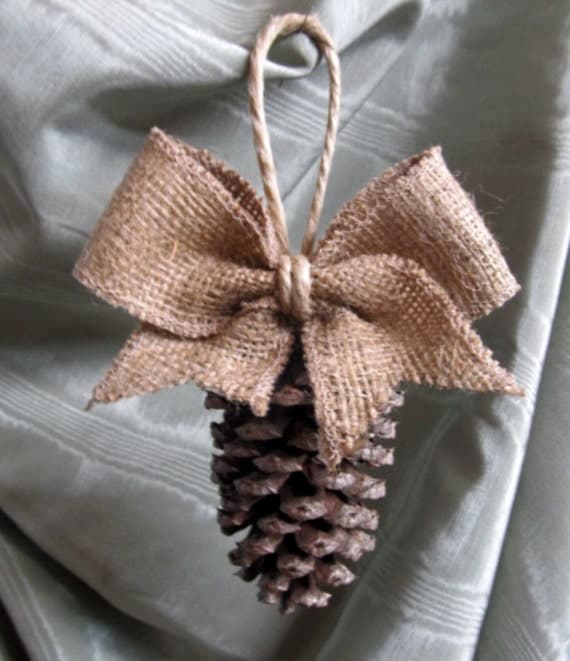 Pinecone Tassel Ornament – PineconeShoppe Etsy Shop
These pinecone ornaments are just about as Christmasy as you can get! Simple and pretty, they would look fabulous decorating a rustic tree with little more than lights and cranberry strings. The burlap bow could be switched out for fabric or ribbon for a slightly different style and color theme. So pretty!
Holiday Pinecone Decorations – Family Circle
Similarly, this pinecone bunting is elegant and rustic and so very beautiful. I love the alternating colors for the ribbon but you could also create a great look with a single color. Perfect for Christmas and beyond, decorating your windows all winter long.