If you have kids, you probably have a pile of puzzles hanging around. And you probably also have puzzles with missing pieces. But don't throw those incomplete puzzles away! Use them in crafts! Here's a few of our favorite puzzle piece crafts to inspire you.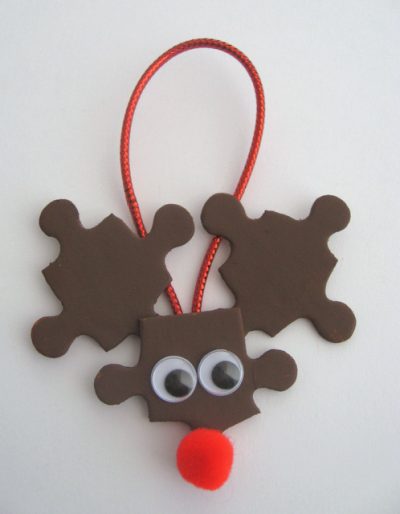 Puzzle Piece Reindeer – Fun Family Crafts
How cute are these puzzle reindeer? Such a simple project for the kids and a great one for a class project or for your kiddo to make for friends and family. The google eyes are my favorite part. So fun!
Perfect Match Puzzle Necklace – Craft Tuts Plus
Remember BFF necklaces? Here's a new twist on the interlocking hearts and an easy craft for your kiddos to make for their bestie. I love the bright colors and the fun look! Great idea!
Puzzle Piece Snowflakes – Red Ted Art
These snowflakes are beautiful and are a great use of those extra puzzle pieces. You could also use large puzzle pieces to make over-sized snowflakes for window or door decorations, or stick with the small version for little ornaments or holiday earrings. Add a little glitter for some extra pop!
What do you do with those leftover puzzle pieces? Send us your ideas! Or check out these and other puzzle crafts on our Craft Trends Pinboard.