January 7, 2014
Craft Trends, Crafts, Crafts to Wear, Jewelry Making, Kid's Crafts
No Comments
By Craft Trends Contributor, Gillian from the blog Dried Figs and Wooden Spools. Check out our Craft Trends board on Pinterest!
Theyyyyy'rrrreee back. Well, maybe they never left, but friendship bracelets are definitely a hit once again. I remember being a fifth grader and having one in progress at all times, pinned to the knee of my pants, clipped to the top of a book, taped to my desk in class. We loved them. They might even have been the thing that kick started my love of crafting of all kinds. But in the years since I was making simple striped bracelets at my desk, friendship bracelets have come a long way and there are so many patterns, variations and options out there now. Perfect for a lazy afternoon project, gifts for friends or just a new hobby, here are a few of our favorite ideas to get you inspired.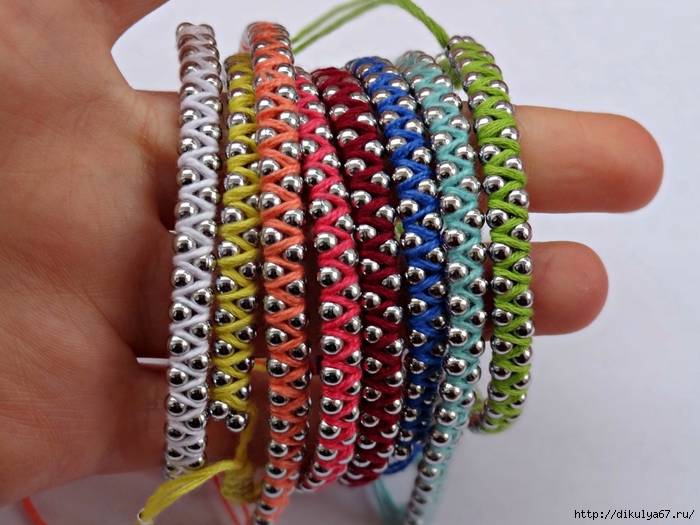 How to Make a Rainbow Friendship Bracelet – Dikulya67
These deceptively simple bracelets employ just one color of thread and small beads (I've seen it done with tiny hex nuts and washers too) to make a fabulous and pretty substantial piece of jewelry. While they would look great on their own, I think a rainbow of colors as seen here is so eye catching! I love it!
How to Make Friendship Bracelets – Todo Manualidades
Loom beaded bracelets can take on just about any pattern and create a lovely, solid piece that can look dressy and casual. These friendship bracelet style beaded pretties harken back to those school playground creations but with something a little fancier.
20 Friendship Bracelet Tutorials - Becoming Martha
Patterns patterns patterns! Look at all the possibilities! I love them all. Complicated, simple, two colors and rainbows. They all look like so much fun! I can't decide which one to try first. How about you?
What's your favorite friendship bracelet pattern? Send us pictures! Tell us about it! We love to hear what you are up to! And check out these and other friendship bracelet ideas on our Craft Trends Pinboard.