By Craft Trends Contributor, Gillian from the blog Dried Figs and Wooden Spools. Check out our Craft Trends board on Pinterest!
Every year, about this time, I start thinking about what on earth I'm going to pull together for classroom valentines this year. With kids at two schools with varying rules for what is and what isn't allowed, dark hints from my older child that things need to be "cool" and my own ever pressing desire to do something new and exciting, I've been on the hunt for some new and improved Valentines ideas. Here are some of my top contenders.
Tic-Tac-Toe Valentines – How to Nest for Less
Some of the classrooms at my daughter's school are strictly no treats, even for Valentines Day, so this tic-tac-toe Valentine is a good no-candy option. And since kids always love new pencils, the inclusion of a new, heart themed writing instrument will be quite the bonus!
XOXO Tic Tac Toe Valentine Cards – Nest of Posies
Although if candy is allowed, this version of Tic-Tac-Toe is also super cute, and perhaps "cool" enough for the older kids to hand out to their friends.
You Rule Valentine Printable – Relocated Living
Here's another no-candy option for the kids! Rulers! Especially since this time a year is about when the kids start to realize they've lost the rulers they were sent to school with back in September.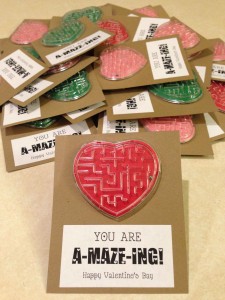 Classroom Valentine Idea – Pinching Your Pennies
These little maze Valentines are so cute and fun that no on will notice the candy is missing! And the mazes will keep kids entertained long after any candy has been nibbled away.
What are you planning for this year's Valentine's Day? Send us your ideas and check out these and other ideas on our Craft Trends Pinboard!