I've got a little satin bag full of the sparkly costume jewelry that both my grandmothers used to wear to parties and I love to peek at their elegance, but I very rarely use them. They are a little too fancy for everyday wear for me and I don't often have a chance to go somewhere where they would be fitting. So I've been on the lookout for some projects to use them with. I love their glamour, they deserve to be used and worn and these projects are just the ticket!
Vintage Costume Jewelry Christmas Tree – Burlap & Denim
Well of course! A sparkly Christmas tree! I love the idea of making a Holiday display that sparkles and shines with the glint of vintage jewelry.
Vintage Costume Jewelry Christmas Tree – Burlap & Denim
This pearl edged version is particularly pretty as well!
Great Grandma's Jewels – Simply Julie
And here's a way to make those sparkly jewels a little more suitable for every day use! Pretty little hairpins topped with something vintage and fun! These would be especially pretty for a little girls party hairdo!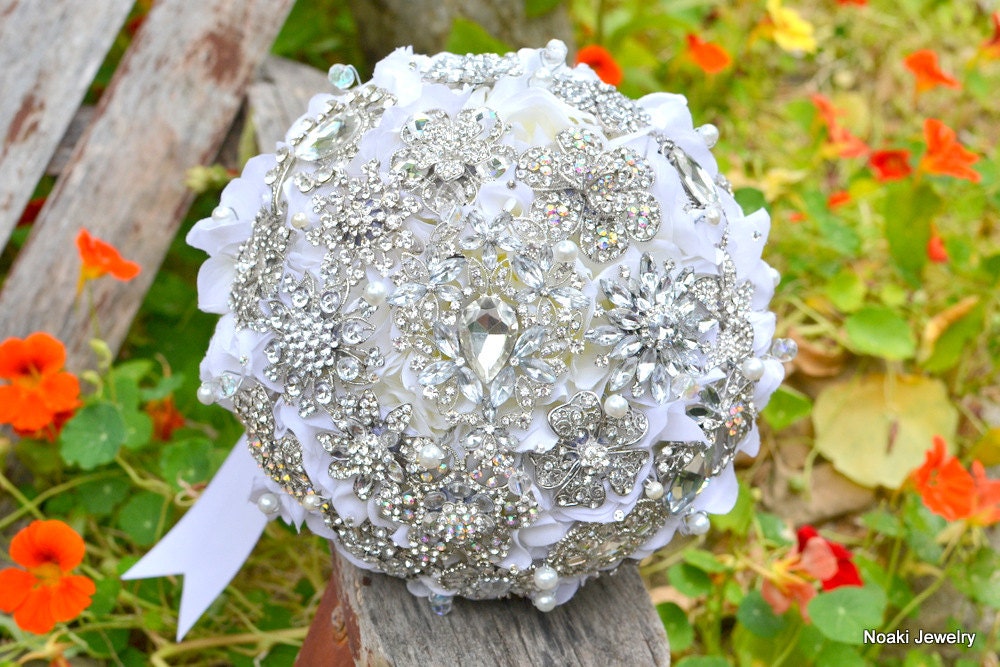 Rhinestone Brooch Bouquet – Noaki Jewelry Etsy Shop
Ok, a bridal bouquet isn't really everyday, but what an amazing way to carry memories of those who are no longer around for the wedding with you down the aisle? Such a beautiful bouquet!
Have you used vintage jewelry in any of your projects? Send us pictures! We'd love to see them! And check out these and other Vintage costume jewelry projects on our Craft Trends Pinboard!