Finger Knitting
October 16, 2013
2:09 pm
Craft Trends, Crafts, Needlearts, Techniques and Mediums
When I was a little girl I fell hard for finger knitting. I must have knit miles of the stuff. I remember my mom hanging it around and around my room, one very long garland that seemed to go on forever. I loved it, but I never really did anything with my finger knitting. Now I have a little girl who loves finger knitting and I've been on the hunt for some projects to use her yards and yards of knitting with. Here are some of my favorites.
Woven Finger Knit Hula Hoop Rug – Flax and Twine
This hula hoop run is a double whammy of crafty brilliance. Two projects in one. First with the finger knitting and then weaving the finger knitting into a rug! On a Hula Hoop! So cool. It's at the top of our to do list this winter.
Finger Knitting a Tent – Growing Up Creative
Or how about these tents made with long strands of finger knitting! These would be so fun in the summer, hanging from the trees. And you could continue to add to them over time.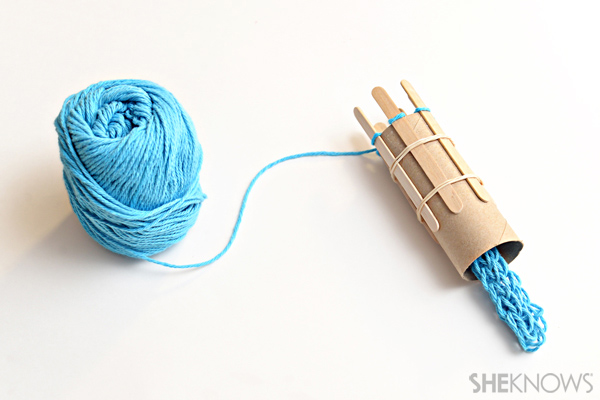 Knitting Loom – She Knows
If you've got the finger knitting bug, why not make the leap to spool knitting with this easy DIY spool knitter. It doesn't get much simpler than craft sticks, rubber bands and a paper tube but what a fun project!
Superblue: Knitting Nancy – Design Boom
Or maybe you want to go big. REALLY BIG with your finger knitting projects. This giant spool knitter was big enough to swallow yoga balls and the whole thing became a giant outdoor seating arrangement/art installation. So cool!
Do you have a finger knitting fan in your house? What have you been doing with all that knitted material? Let us know! And check out these and other finger knitting ideas on our Craft Trends Pinboard.